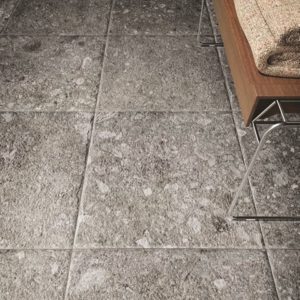 HDG Sierra Mist
This Nordic-inspired Sierra series is a material with a distinctive harmoniously random texture, with pebbles of varying colours and shapes creating pleasant three-dimensional effects, breathing life into surfaces with a natural yet contemporary surface. Here, ceramic surfaces become tactile and a harmoniously irregular grain becomes the focus.
Finish: Quartzite – Int/Exterior
Applications: Specifically designed for the tremendous variety of outdoor applications the structured finishings have an "old" look, making this collection the ideal solution for balconies and gardens. Available in standard 60×60 cm and a new grand size, 90×90 cm.
Color Variation: V2, Color Variation Explained
Sizes: 60×60 cm, 45×90 cm, Porcelain Paver Sizes Demystified