Cell-Tek SlopeGrid® as a Retaining Wall Alternative
Protecting Property on Steep Slopes
Soil won't stand at attention. You cannot command it to stay in place. Steep slopes of 40% grade or more will inevitably slough, shift, or slide. Heavy rainfall will speed soil displacement and frequent precipitation events will not give the soil the opportunity to fully recover.
Nature always wins. If you need a reminder visit the Grand Canyon or other place where water beats rock, given enough time. It's best to find a soil containment solution that keeps soil in place and works in harmony with nature.
Retaining Walls Are One Solution
Conventional landscape solutions for steep slopes include the construction of retaining walls. Retaining walls can provide beauty to a landscape and the surrounding structures while offering functional value and protection by keeping soil in place.
Retaining Walls Material Selection
Retaining walls can be both decorative and functional. If the wall is merely decorative the owner can select most any materials they want to achieve the desired design aesthetic. But, if the soil strength and slope stability require a functional design to drain soil and redirect water, more guidance will be required in the material selection.
Materials range from segmented blocks of natural stone, poured concrete walls, or segmented concrete blocks. In some cases treated wood and other materials may be used.
Retaining Wall Design
Functional retaining walls must be properly designed. If the retaining wall is not properly engineered for the soil with drain pipes, back fill, weep vents, height and proper offset, then the project could be a slow moving disaster. It is important to enlist the help of a qualified landscape architect, professional engineer, or soil scientist.
A retaining wall could add unnecessary expense to a landscape project. If walls are not properly designed then the imminent failure, cleanup, and redesign become additional expenses the owner will eventually pay for. That's like paying for the project twice.
Why Retaining Walls Fail
Poor drainage is the main cause of retaining wall failure. Without proper drainage, water builds up behind the wall. Each precipitation event can add to the water build-up. If rainfall is heavy and frequent enough, hydrostatic pressure builds up behind the wall and causes it to fail. An early warning sign is soggy soil behind the wall. But, by the time this is happening it might be too late to act.
Getting the proper amount of drainage engineered into the project from the start is key. But, just how much is needed? That is the challenge. A retaining wall is not the only solution to protecting steep slopes. Let's look at another solution.
Slope Protection Using SlopeGrid
SlopeGrid is a geosynthetic soil reinforcement material. It is a plastic polymer stretched to form a lightweight, high-tensile-strength grid across a slope. The grid acts similarly to reinforcing mesh in concrete, adding strength to the shear strength of the soil. But unlike concrete, there is no water runoff or buildup behind a wall. Soil drainage is an inherent benefit to the design of slopes that use SlopeGrid.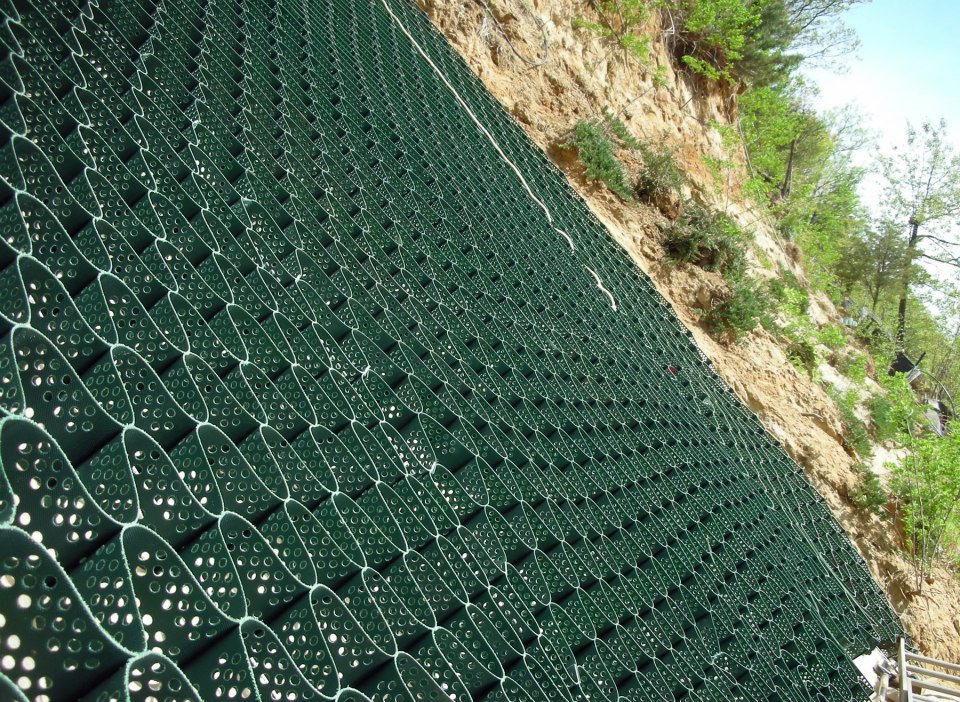 Cell-Tek Cellular Confinement System is useful for shoring up steep slopes and for creating a stable platform to install pavers, stone, or pedestal systems.
SlopeGrid Retaining Wall Benefits
SlopeGrid consists of a series of interconnected cells and when fastened to any slope it will prevent erosion and keep soil in place. SlopeGrid is an economical and effective alternative solution to a traditional retaining wall.  Benefits of using SlopeGrid instead of a traditional retaining wall include:
Project Benefits
Economical especially compared to block walls
No hydrostatic pressure build-up
No retaining wall bulge, cracks, or failure
No need to calculate drainage and second guess calculations
Low shipping costs (4,176 sf of SlopeGrid on a pallet).
Installation Benefits
Quick install with minimal training
Lightweight materials can be hand carried to the job site
Materials are safe and workable even on steep hard to reach slopes
Contractors or landscape installers don't get the angry customer call back when retaining wall drainage calculations were insufficient
Design Benefits
Better design aesthetic especially when planted with vegetation
More harmonious with nature given the beautiful, natural look
Invisible protection can blend in to the surroundings
SlopeGrid Steep Slope Project to Protect Shoreline
Below are photos from a shoreline protection project in Maryland. Photos courtesy of Kings Cut Landscaping. The large stone (riprap) at the bottom edge helps to break and prevent water-action erosion. SlopeGrid is used extensively on the extremely steep slope above and infilled with native vegetation. A traditional retaining wall would have been impractical and expensive on this project.
Experience Counts. Talk to HDG.
Need Help Selecting Materials for a Project? Call 503.360.9551, Email sales@hdgbuildingmaterials.com, Or Click.