Design For A Post Pandemic World
Rooftop decks could become the new normal in the post pandemic world. Here is why. The future of designing buildings and public spaces is occupying the minds of architects, building owners, property developers, and public policy makers. It is also something many of us, as frequenters of commercial and civic spaces, are thinking about. Creating a safe feeling in hospitality and dining environments could be key to drawing us from our stay-at-home cocoons as reopening continues.
Nobody knows for sure what dining and hospitality will look like post pandemic. But this much is clear, it will probably evolve to include:
more outdoor seating and spaces;
increased access to fresh air;
more space between patrons; and,
intentionally located hand wash stations.
Innovators Explore New Possibilities
Innovators haven't been sitting still. As COVID19 turmoil invoked government officials to issue stay at home orders, many restaurants began shifting their operations to support delivery and curbside pickup services. Now, it is commonplace to see "We are Open For Delivery" signs adorning windows of what appear to be otherwise shuttered cafes and restaurants.
Greenhouse Dining for Social Distancing
As pressures mount to reopen, innovative restauranteurs are thinking beyond delivery and curbside service. One concept being tried out by Mediamatic ETEN in the Netherlands is to create separate greenhouse dining spaces for diners. Their innovative concept has has been in testing and refinement mode with staff and insiders. It is expected to gain approval and open to the public. It is recommended for people who are already living together. Dubbed, "Serres Séparées," French for Separate Greenhouses, the reserved dining spaces are sold out through June. It is a sign that as social creatures there is demand for us to gather safely.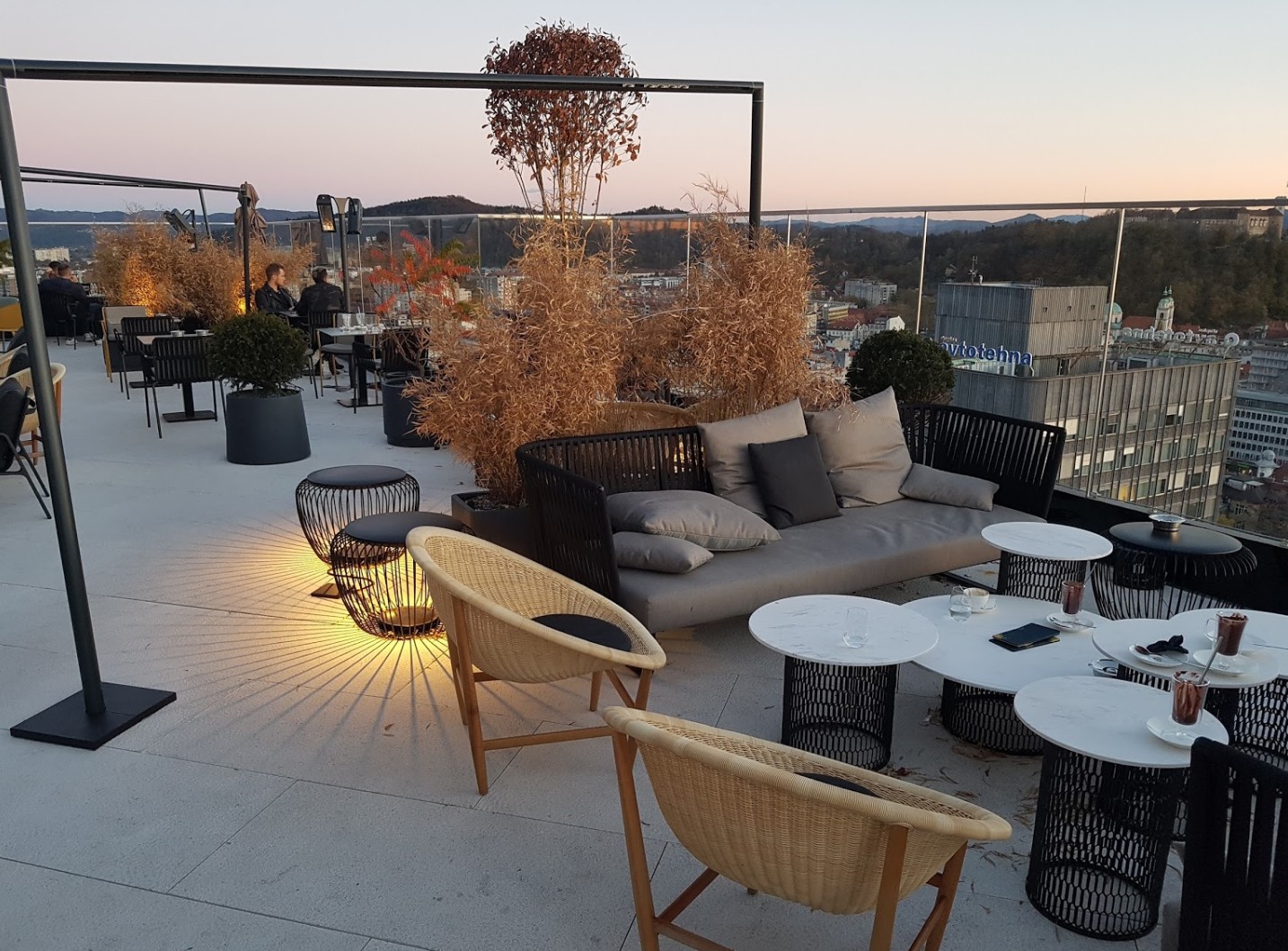 Photos courtesy of Anne Lakeman and Willem Velthoven for Mediamatic Amsterdam. At Mediamatic we are always looking for new developments in society. We are interested in how art, design and science merge and how we can use this to experiment with new (living) materials.
Rooftop Decks Create Value
Most structures involve design that incorporates slope toward the drains to direct water away from structures. This is especially prevalent on rooftops. The combination of uneven surfaces, exposed drains and runs of electrical conduit, air supply plenums, HVAC and other service lines doesn't normally present a safe or inviting environment. As a result, building owners often ignore these rooftop, garage top, and other spaces, deeming them unusable and inhabitable. This is a mistake.
Post Pandemic Rooftop Decks Provide Space
Adding a rooftop deck or outdoor terrace can convert unused space into places where people gather, relax, and consume the venue's products and services. Green roofs and terraces can boast beautiful gardens and even help to rejuvenate local ecosystems. Think pollinators. Now, think people who wish to gather safely. In a post pandemic world, rooftop decks become even more valuable for building owners, managers, visitors and other stakeholders.
Post Pandemic Design for Cleaning
Designing a raised terrace makes it possible to create a perfectly level surface that hides the unsightly services while not altering the slope-to-drains properties necessary to channel water away from structures. By hiding electrical, plumbing, irrigation, and other services beneath the decking surface, building owners and managers minimize trip hazards and potential vandalism. Now, with venues needing to reliably disinfect surfaces, having pipes, wires, and conduit runs out of the way become more critical. Stowing services below the decking surface increases the speed and efficacy of cleaning and disinfecting surfaces.
Designers and Architects Need to Know
One manufacturer that every hospitality designer and architect needs to know about is Buzon Pedestals International. Using Buzon pedestals designers and architects can create rooftop decks and raised terraces for restaurants, hospitality, bars, outdoor living spaces, rooftop gardens, green roofs, pools, patios, and other outdoor spaces.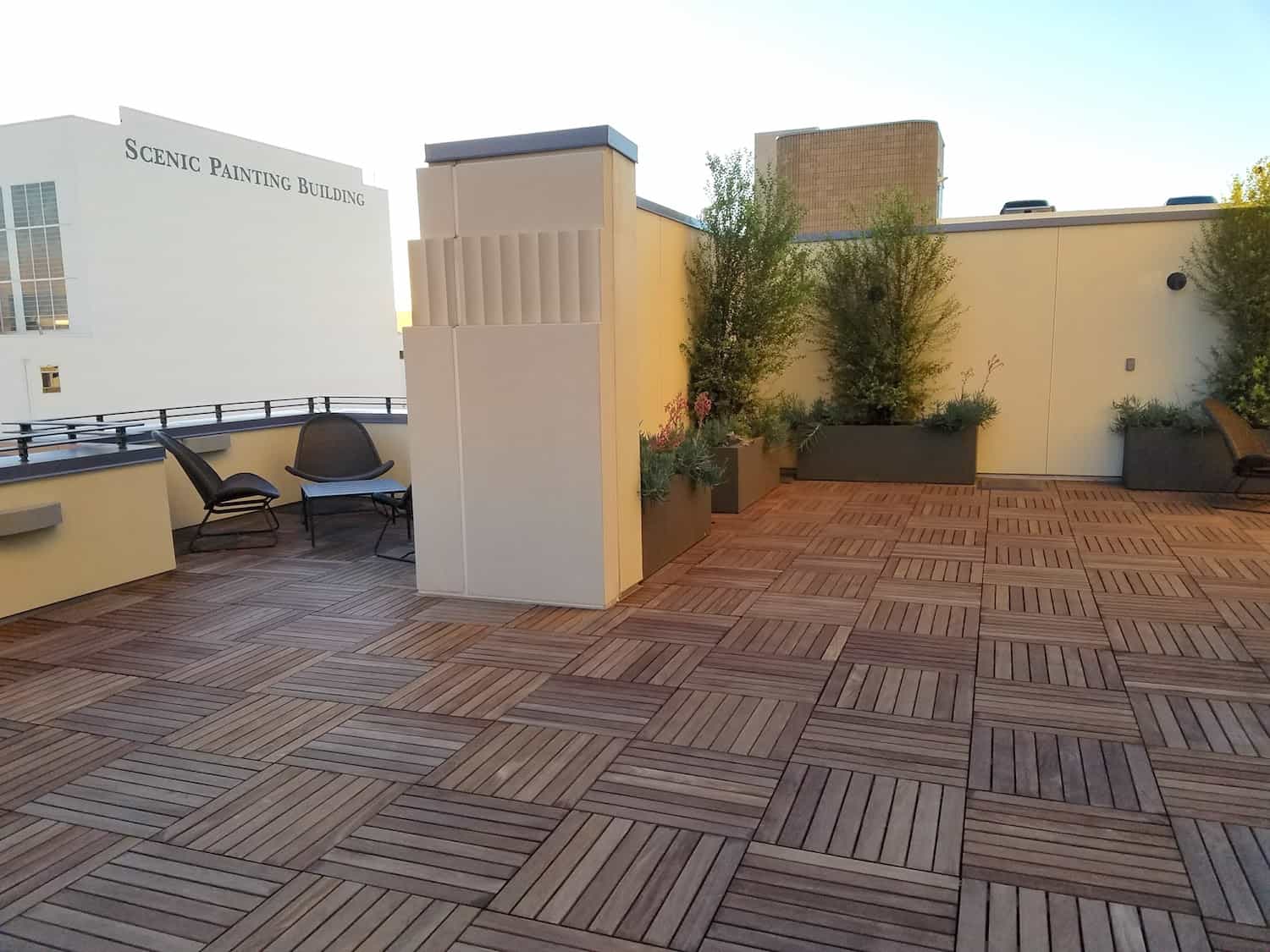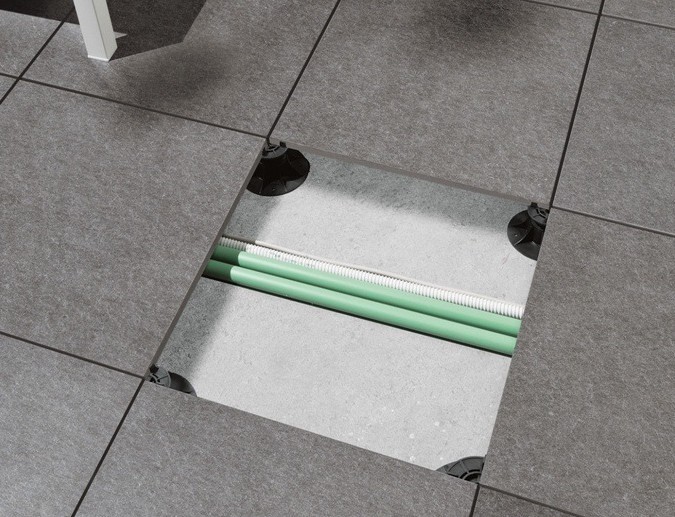 Rethinking Spaces Using Rooftop Decks
Post pandemic rooftop decks make much sense. Truth is, rooftop decks and outdoor raised terraces always made good sense. Now more than ever, architects, designers, and owners should explore previously unused spaces and rethink how to make spaces safer for occupants and visitors. Rooftop decks and raised terraces should be part of those explorations. With Buzon adjustable-height pedestals designers and architects can:
preserve slope-to-drains requirements to protect structures
correct slope so decking surface remains level and comfortable for people
accommodate a variety of decking materials for desired design aesthetic
speed installation leading to reduced costs
Rooftop Decking Materials
Buzon pedestals accommodate most any type of decking materials including: hardwood decking tiles, wood decking, natural stone, Thermory pavers, Resysta decking, structural porcelain pavers, concrete pavers, even walkable glass pavers. This makes it possible to achieve whatever design aesthetic you are going for. As a Buzon pedestals master dealer, HDG Building Materials supplies pedestals and decking materials. We also help solve design problems using HDG Grating Panels, which are often used in conjunction with pedestals and porcelain pavers.
Below is a sampling of rooftop decking and outdoor raised terrace projects using Buzon pedestals and different decking materials. As you can see, rooftop decks and raised terraces are hardly new to HDG Building Materials. But don't worry if they are new to you. We are happy to discuss any of the decking materials used in these projects or hear about your project. When you are ready please get in touch..
Architects and Installers Prefer Buzon
Buzon offers the fastest most accurate slope correction system available. As an installer, it saves me time and labor. That's important because I want to drain water, not my budget.

– Jon Aguilar, Owner, Heritage Earth and Stone
If I had known about screw-jack pedestals earlier in my career I absolutely would have put them everywhere. I like that you can create comfortable level surfaces for people right over the top of sloped surfaces designed to drain. I also like being able to hide irrigation, plumbing, and electrical services below the surface. This is much more elegant than running conduit everywhere.

– Bing Sheldon, FAIA, retired chairman and founder of SERA Architects
Listen to HDG Principal, Erik Nelson, walk through the various features of Buzon pedestals in this commercial rooftop decking installation.
Hospitality Rooftop Decks and Raised Terrace Examples
Discuss Projects
Are you an architect, designer, owner, or developer who wishes to discuss your project? Experience Counts. Talk to HDG. Call 503.360.9551 or Click.