You Are Invited!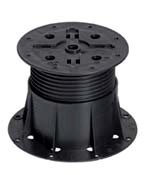 We invite you and your company representatives to visit us while attending the International Roofing Expo in Las Vegas from March 1-3, 2017. HDG Building Materials is a supplier of superior paving, decking, and pedestal products. We supply Buzon Pedestals, the original and most innovative screw jack pedestal. We also provide nearly any decking surface from natural stone, porcelain tiles, concrete pavers, to tropical hardwoods and environmentally friendly non-woods, too. Visit us at the Buzon Pedestals International booth #2331. We look forward to meeting you and learning about your business.
About Buzon Pedestals
Designed for creating raised floors in external applications, Buzon's Award Winning Pedestal system can be used with concrete or stone pavers, structural porcelain pavers, and timber decking and pavers of all types. Leading architects, builders, and specifiers choose Buzon Pedestals for terraces, balconies, walkways, green roofs, and pool surroundings in commercial, luxury residential and municipal settings. Visit us to see firsthand the innovative slope correction system that enables the design of slope to drain surfaces while maintaining perfectly level surfaces for people and furniture.
Free Expo Admission
To receive FREE Expo admission, click the show image or the register button or visit www.TheRoofingExpo.com and enter XTK154 on the registration home page when prompted to enter a discount code.
About International Roofing Expo
The International Roofing Expo is a 3 day event being held from March 1-3, 2017 at the Mandalay Bay Convention Center in Las Vegas, Nevada. It is the must-attend event for commercial and residential roofing professionals to stay abreast of market directions, trends and cutting-edge technology.