Sloped Design Uses Buzon Pedestals and HDG Grating Panels
Commercial Project: 601 City Center T12
Location: Oakland, California
The 25-story Class A urban office building features urban plazas facing Oakland City Center and Lafayette Square. It is part of the Oakland City Center Project. The pedestrian plazas serve as the building's two entrances to the office lobby and feature a sloped surface design.
Project Features:
Sloped walking surface design over an uneven substrate
Sloped walking surface ties into the public sidewalk grade
Multiple sized porcelain pavers set at an angle to the slope
Buzon Pedestals with top and bottom slope correctors
East and West Plaza contain both soft and hard landscaping
Project Summary
This complex commercial project in the Bay Area involves a couple of plazas. The client wanted multiple size pavers set to create a sloped walking surface over an uneven substrate. The pavers would need to be set at an angle to the slope as well.
HDG met on a conference call with the project owner's PM, the GC, engineer, architect, and landscape architect. HDG went through dozens of emails clarifying plans and details to help the client figure out their sloped surface design. We ended up using a combination of Buzon screwjack height-adjustable pedestals (with both top and bottom slope correctors), HDG Grating Panels and Structural Porcelain Pavers.
This design allowed the client to tie the plaza finished walking surface to the finished floor of the building and to the public sidewalk grades.
Project Takeoffs
The 601 City Center Project takeoffs reveal the pedestal planning details around the sloped surface design using grating panels, porcelain pavers and Buzon pedestals. The last sheet in the Takeoff PDF shows the section elevation details with the substrate and top slopes. Contact us to learn more.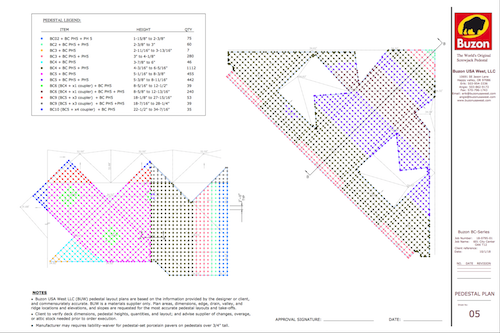 601 City Center Project Takeoffs
Sloped Surfaces & ADA Ramps
As in the 601 City Center Plaza, designers and architects sometimes wish to create intentionally sloped surfaces. Sloped surface design can be for rooftops, decks, walking surfaces, and to create wheelchair accessible ramps.
The same slope-correcting features that allow designers to use Buzon pedestals to create level surfaces over slope-to-drain substrates can also be used to design sloping surfaces with a desired degree of slope.
Buzon is uniquely designed to handle complex and varied substrates — and to generate consistent sloped ramps or walking surfaces.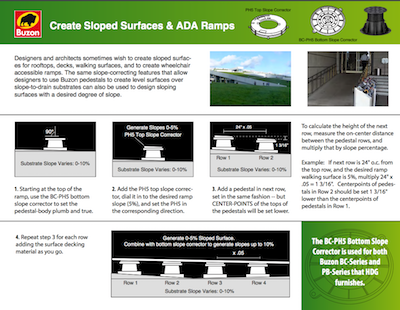 HDG as a Project Resource
HDG project takeoffs show the locations and heights of all the pedestals. Best of all, you don't have to figure this out. We will do it for you. All we need are a few key point elevations for each water-shed (drainage area).
Our shop drawings and takeoffs show paver layout, count and partial pavers/cuts. When board-decking is involved our takeoffs show joint-pattern and linear footage as well as the joist-spacing.
Of course you can always contact HDG to consult with you on your design.
Discuss Projects
Would you like to discuss using grating panels and Buzon pedestals to create a sloped surface design? Call 503.360.9551 or Click.