Rooftop Deck with Porcelain Pavers Over Buzon Pedestals
Residential Project: Nearly a Houseboat
Location: Seattle, WA
Puget Sound waterfront home with upper and lower decks near Alki Point in West Seattle.
The Look of Natural Stone
Some things are not as they appear. On the surface, this waterfront home appears to have an upper deck and lower deck made of natural stone. But, in reality the decking material isn't stone. This rooftop deck uses stone look porcelain pavers. Specifically, HDG Jamba Slate, a structural porcelain paver available from HDG Building Materials. Like stone, this porcelain paver is elegant and boasts a unique nonrepetitive course slate stone finish. But, add to that the benefits of technical performance and low maintenance requirements inherit to porcelain pavers.
Buzon Pedestals Support Porcelain Pavers
What's holding up this stone look rooftop deck? Those would be Buzon adjustable height and slope-correcting pedestals. If you are new to screwjack pedestals or want a refresher visit this one page Buzon learning resource.
Rooftop Deck with Porcelain Pavers – Roof Loading
Decking materials chosen for a rooftop deck have weight and subsequently, consequences. Increased material weight can increase the demand for structural requirements especially when factoring in active loads. The 2cm structural porcelain pavers like the HDG Jamba Slate used in this rooftop deck are about mid range on the lbs/sf weight of materials that HDG carries.  Natural stone pavers would be heavier and Thermory Wood Pavers would be on the lighter side. To learn more about loading and see a comparison of different decking materials, read the APPLICATION NOTE: Decking Materials and Roof Loading.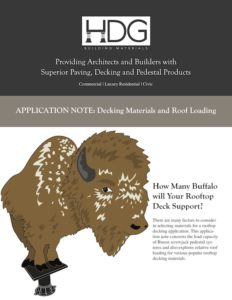 Click image or link to download.
(PDF will open in new window)
Experience Counts. Talk to HDG.
Would you like to discuss the materials or logistics on this project or perhaps one of your own? Call 503.360.9551 or Click.