Adjustable Joist Support
Slope-correcting and height-adjustable Buzon pedestals offer a fixed or adjustable joist support accessory that affixes to the pedestal head. These joist support accessories accommodate nearly any size or type pressure treated (PT) lumber joists, beams or framing, HDG Alum Joists, or metal tube-alum or tube-steel.
Adjustable Joist Holder
The Buzon BC-KIT-2 adjustable joist holder is affixed to the BC Series pedestal head and firmly holds the joists supporting the deck boards. It is adjustable in width with guide-arms that slide in-out and can grab/secure pressure-treated 2x, 3x, 4x, and even 6x joists or beams. It will also secure any size alum or metal framing.
Versatile Fixed Joist Holder
The BC-KIT-5 and PB-KIT-5 are fixed-joist holders. These require only x1 clip per pedestal head and are significantly faster and less expensive than using the adjustable joist-holder models. Joists are secured to the fix-joist holder by screw-attaching through the one vertical guide-arm.
BC-KIT-5
The KIT-5 fixed joist-holder is flexible in that it too can hold any size or type PT joists, beams or framing, HDG Alum Joists, or any type of metal tube-alum or tube-steel. It is useful to use these stronger members sometimes to BRIDGE over longer distances on a roof-deck where decking or pavers need to span over piping or mechanical equipment. The BC-KIT-5 can accommodate joists with a minimum depth of 30 mm (1.18 in)  and a maximum width of 100 mm (3.94 in).
BC-KIT-5 Joist Support Advantages:
Significantly faster and less expensive than fully adjustable joist-holder models
Works with entire range of BC series pedestals (PB-KIT-5 is available for PB-series pedestals)
Easily installed by snapping into pedestal head
Can secure an individual joist or be used to combined 2 joists
Accommodates a wide range of joist sizes
Compatible with Buzon patented slope correction system
Resistant to weathering, sea salts, algae and a wide range
of chemicals
Buzon Joist Supports
Buzon offers several fixed and adjustable joist supports. In addition to the BC-KIT-5, the Buzon PB-series pedestals offer a similar joist support accessory that snaps into the top of the PB-series pedestal head. Please contact HDG Building Materials for guidance on which pedestal series and which fixed or adjustable joist support accessory is best for your project.
See How the BC-KIT 5 Joist Support Works
Buzon Adjustable Joist Support Sample Projects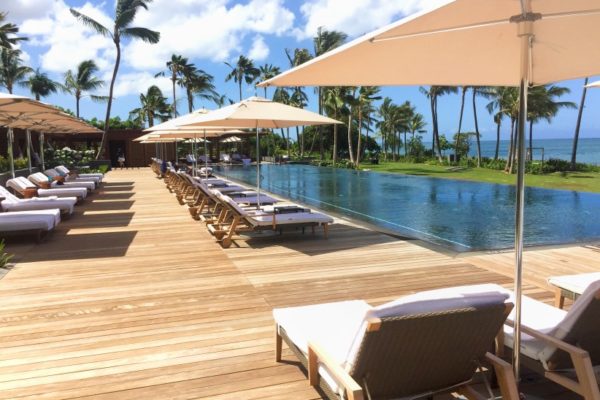 Four Seasons O`ahu at Ko Olina
This hotel resort has multiple pool surrounds comprised of ipe decking supported by Buzon pedestals and adjustable joist supports. View the project to see examples of HDG Building Materials project takeoffs that help clients with pedestal planning and details around joist requirements and board-decking. Fun Fact: This resort location was featured in the movie SNATCHED with Goldie Hawn and Amy Schumer.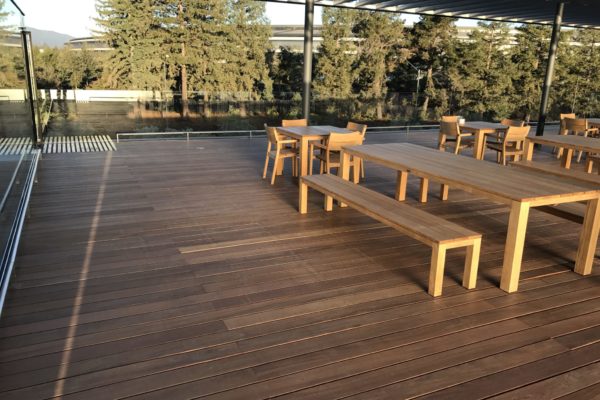 Apple Campus Visitor Center
The Apple Campus Visitor Center uses scratch-resistant, high pedestrian traffic capable, 25mm x 145mm board decking over Buzon adjustable pedestals. Adjustable joist supports affix each Fire Treated STK Cedar 4×4 joist to the pedestal heads. This project uses the Fire-Rated, Self-Extinguishing option of Buzon BC-Series Screwjack Pedestals.
Experts in Pedestal Joist Decking
Leverage HDG Building Materials
HDG provides expert design and installation guidance on pedestal paver systems whether you are designing a modest terrace or a large public plaza. HDG project takeoffs show the locations and heights of all the pedestals. Best of all, you don't have to figure this out. We will do it for you. All we need are a few key point elevations for each water-shed (drainage area).
Our shop drawings and takeoffs show paver layout, count and partial pavers/cuts. When board-decking is involved our takeoffs show joint-pattern and linear footage as well as the joist-spacing.
Reach out at any stage of your projects. We'll help you get started and keep going, from concept to completion. We are happy to work with landscape architects, building professionals, architects, planners, designers, and owners interested in using superior products.