Innovative Solutions to Design Challenges
Design solutions often involve more than one product. Those products have to work seamlessly together just like the teams involved. Your best work deserves superior products and services to match. 
Sometimes the expectations for a product exceed the original intended purpose for that product. For example, a porcelain paver on its own has no ability to hide electrical or plumbing services beneath its surface. For that, porcelain pavers will need to be set on pedestals. The cavity created below the surface enables designers to stow unsightly or unsafe services beneath the decking surface. If the substrate is uneven or sloping, or if there is a desired degree of slope, then the pedestals will need to be height-adjustable and slope-correcting.
Also, if there are obstacles that would prevent placing pedestals in a location needed to support the decking surface, then grating panels will need to be included in the design. Mother nature can also be a factor. If the paver decking material will encounter wind uplift then there will need to be a wind-resistant wind uplift solution. Otherwise, those beautifully installed stone-finish porcelain pavers may end up in the adjacent property. Design challenges like these go beyond mere products alone. There needs to be a holistic approach to address the combined set of design challenges. Good news; HDG can help.
Complete Solutions Require More Than Products Alone
HDG works with owners, project managers, general contractors, engineers, architects, and landscape architects. Your best work deserves superior products and services to match. Fortunately, HDG Building Materials not only provides superior paving, decking, and pedestal products but also provides the systems knowledge and know-how needed for you to make your design vision a reality. Leverage our experience for your project success.
Another Innovative Pedestal Paver Project Example:
Pedestrian Building Entrance Plazas
Project Features:
Sloped walking surface design over an uneven substrate
Sloped walking surface ties into the public sidewalk grade

Multiple sized porcelain pavers set at an angle to the slope

Buzon Pedestals with top and bottom slope correctors

East and West Plaza contain both soft and hard landscaping

Wind-uplift solution for porcelain pavers
Project Description
Commercial Project: 601 City Center T12
Location: Oakland, California
The 25-story Class A urban office building features urban plazas facing Oakland City Center and Lafayette Square. It is part of the Oakland City Center Project. The pedestrian plazas serve as the building's two entrances to the office lobby and feature a sloped surface design. This complex commercial project in the Bay Area involved a couple of plazas. The client wanted multiple-size pavers set to create a sloped walking surface over an uneven substrate. The pavers would need to be set at an angle to the slope as well. Wind-uplift was also an issue that needed to be addressed.
Selected Progress and Completion Photos
Why Choose HDG?
HDG has experience working across the country with leading architects and construction professionals

HDG is an extended team resource for innovative pedestal-paver solutions including sloped-surface design

HDG is an expert dealer for Buzon pedestals

HDG has your project covered with nearly any decking material surface

HDG has several wind-resistant solutions to meet the wind-uplift challenges of your particular project

HDG also provide grating panels and other constructive solutions to meet unique design challenges
Experience Counts.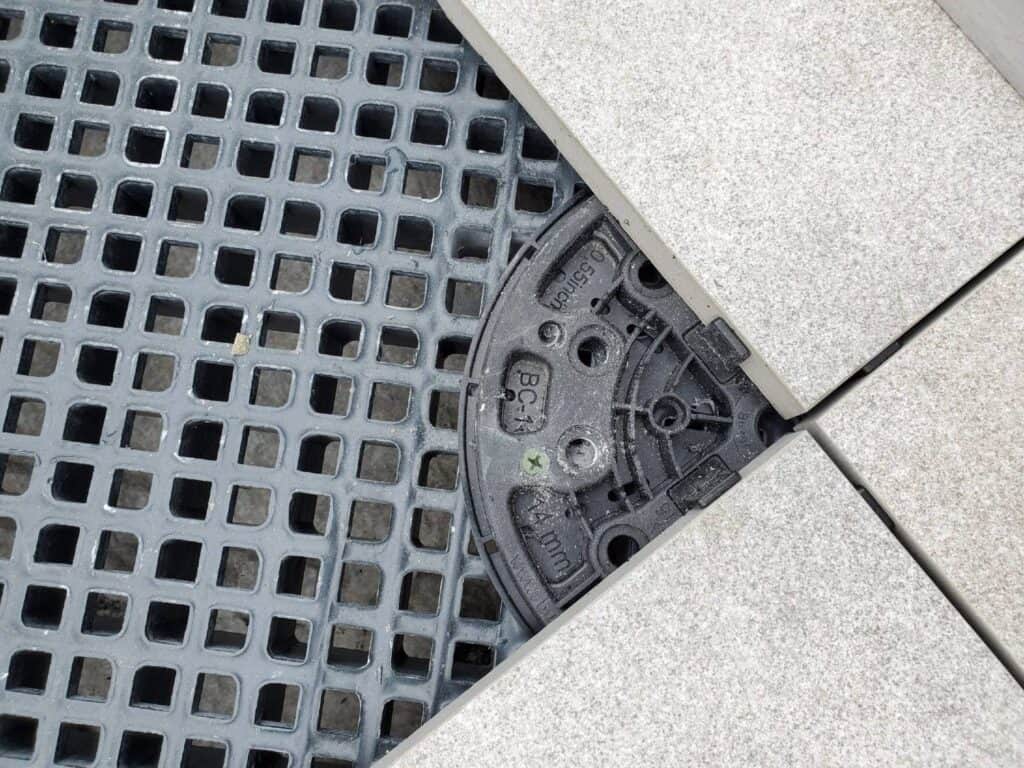 Project Takeoffs
The 601 City Center Project takeoffs reveal the pedestal planning details around the sloped surface design using grating panels, porcelain pavers and Buzon pedestals. The last sheet in the Takeoff PDF shows the section elevation details with the substrate and top slopes. Contact us to learn more.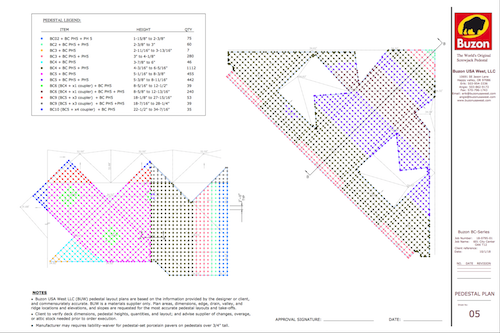 601 City Center Project Takeoffs
HDG as a Project Resource
HDG project takeoffs show the locations and heights of all the pedestals. Best of all, you don't have to figure this out. We will do it for you. All we need are a few key point elevations for each water-shed (drainage area).
Our shop drawings and takeoffs show paver layout, count and partial pavers/cuts. When board-decking is involved our takeoffs show joint-pattern and linear footage as well as the joist-spacing.
Of course you can always contact HDG to consult with you on your design.
601 City Center Project Partners:
Client: Shorenstein Company
Architecture: KSH Architects

Landscape Architect: Hood Design Studio
Contractor: Hathaway Dinwiddie
Installer: DeAnza Tile
Consultant: Heritage Earth and Stone
Buzon USA West and HDG Building Materials
Buzon USA West visited the job site during installation and introduced a Buzon on-site technical trainer who was contracted by the project to help facilitate this complex layout together with the installer– at the start of installation and a follow-up visit near the middle of the project before starting the second terrace.
See Other Innovative Pedestal Paver Solutions
View this inspiring video to see innovative pedestal paver solutions in a variety of residential, commercial, and municipal environments. Buzon pedestals have supported nearly any decking materials imaginable. Create your next iconic project using Buzon pedestals with the help of expert dealer, HDG Building Materials.
Experience Counts. Talk to HDG.
Would you like to discuss the materials or logistics behind the 601 City Center Project? Or, let's discuss your project. Call 503.360.9551 or Click.