Pedestal Paver System Basics
Pedestal paver systems use adjustable supports to create level surfaces over uneven or sloping substrates. Buzon pedestal paver systems are modular, can correct slopes up to 15-degrees and have pedestal heights ranging from ½" to 44". Buzon pedestals are compatible with most decking materials including: hardwood decking tiles, Black Locust Deck Tiles, Kebony® Decking, wood and composite board decking, Thermory Wood Pavers, natural stone pavers, Resysta decking, structural porcelain pavers, concrete pavers, even walkable glass pavers.
Why Use Pedestal Paver Systems?
Applications for pedestal paver systems include any raised floor application on balconies, terraces, green roofs, temporary floors, industrial walks, and water features. The goal is usually the same, keep the surface level while allowing water to pass to the substrate below and follow the slope to the drains. Buzon pedestals have been designed into water features, terraces, plazas, balconies, roof gardens and green roofs, pathways and walkways in prominent commercial and government buildings and public spaces in 50 countries around the world. Buzon screwjack pedestals are suited for both large-scale projects as well as small installations.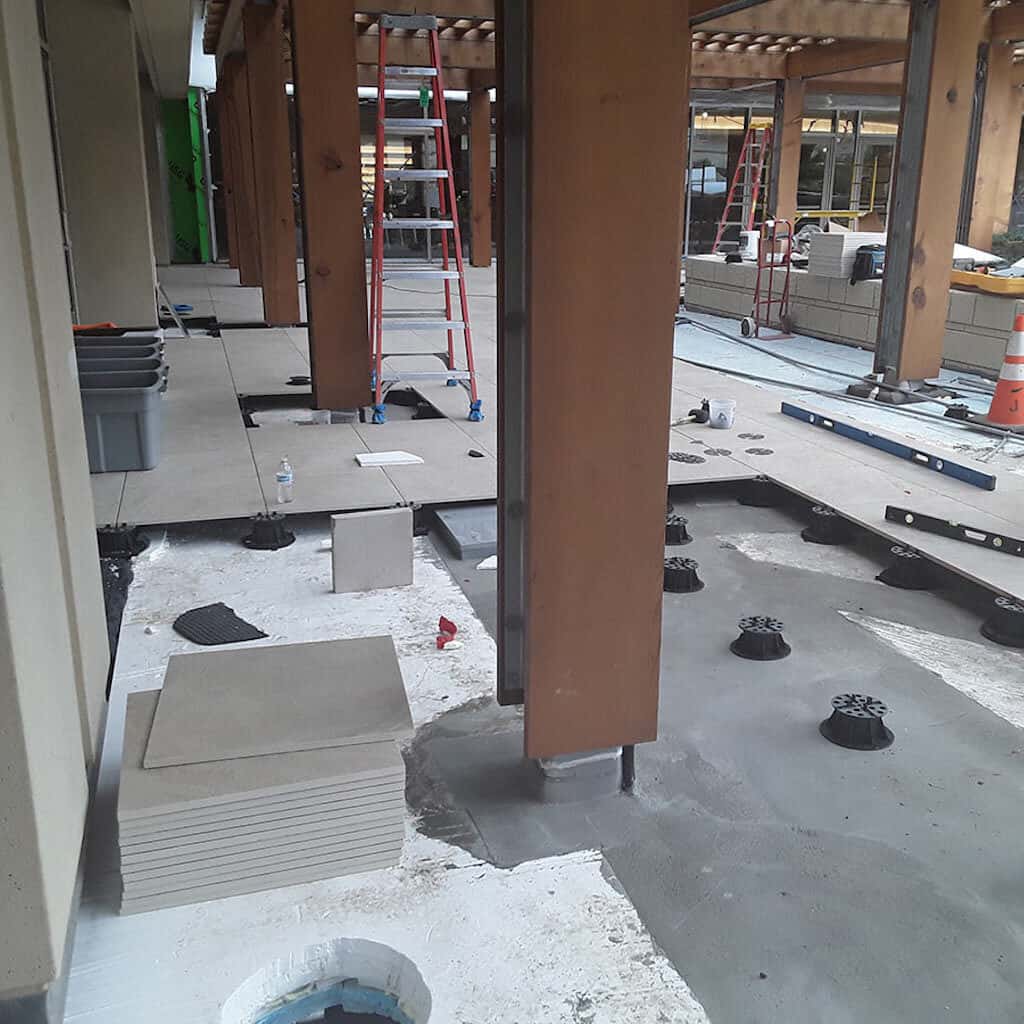 VIDEO: Buzon Pedestals Iconic Projects
Take a journey through several iconic projects that use Buzon pedestals and various decking materials including: porcelain pavers, ipe hardwood pavers, HDG grating panels, concrete pavers, board decking, and more. Create your next iconic project using Buzon pedestals.
Leverage HDG Building Materials 
HDG provides expert design and installation guidance on pedestal paver systems whether you are designing a modest terrace or a large public plaza. HDG project takeoffs show the locations and heights of all the pedestals. Best of all, you don't have to figure this out. We will do it for you. All we need are a few key point elevations for each water-shed (drainage area).
Our shop drawings and takeoffs show paver layout, count and partial pavers/cuts. When board-decking is involved our takeoffs show joint-pattern and linear footage as well as the joist-spacing.
Reach out at any stage of your projects. We'll help you get started and keep going, from concept to completion. We are happy to work with landscape architects, building professionals, architects, planners, designers, and owners interested in using superior products.
Experience Counts. Talk to HDG.
Would you like to discuss the materials or logistics behind any projects shown here? Or, let's discuss your project. Call 503.360.9551 or Click.