Alternatives to Ipe Hardwood Pavers
Ipe hardwood is beautiful, durable, resistant to insects and moisture, and has a long life. There are plenty of positive attributes for using Ipe deck tiles for a terrace, rooftop deck, green roof, or other landscape design or decking application. But, the negative attributes of Ipe are top of mind for sustainability-minded architects and designers. That is what has them looking for alternatives to Ipe.
Ipe trees take hundreds of years to mature. Other wood species become harvestable in a fraction of that time. If you are a designer or architect looking for sustainable alternatives to Ipe hardwood then you are in luck. HDG offers several alternatives to Ipe, each with its unique advantages.
Sustainable Alternatives to Ipe
Featured: Black Locust Deck Tiles
HDG Building Materials is proud to offer Black Locust Deck Tiles among its lineup of sustainable alternatives to IPE Structural Pavers. Black Locus matches Ipe in terms of lifespan. Projects using either of these hardwoods will easily last 30-50 years or more. In terms of strength, Black Locust almost matches Ipe hardwood. Both of these hardwoods are among the strongest woods known. Both Ipe and Black Locust are extremely low maintenance.
Black Locust Advantages Over Ipe
When it comes to the environment, Black Locust Deck Tiles have a clear advantage over Ipe hardwood. Black Locust grows more quickly and in higher density. The fast-growing Black Locust tree will mature in 20-40 years. Compare that to Ipe, which takes hundreds of years. Ipe is extremely low density and there are no plantations for Ipe in Brazil. This means all harvested wood comes from natural forests. In contrast, Black Locust doesn't contribute to tropical deforestation. It exists in high density and is native to much of North America and Europe. That makes Black Locust a sustainable wood of choice.
Key Advantages:
Grows More Quickly
Grows in Higher Density
Is Native to North America and Europe
Doesn't contribute to Tropical Deforestation
Thermory and Other Tropical Alternatives to Ipe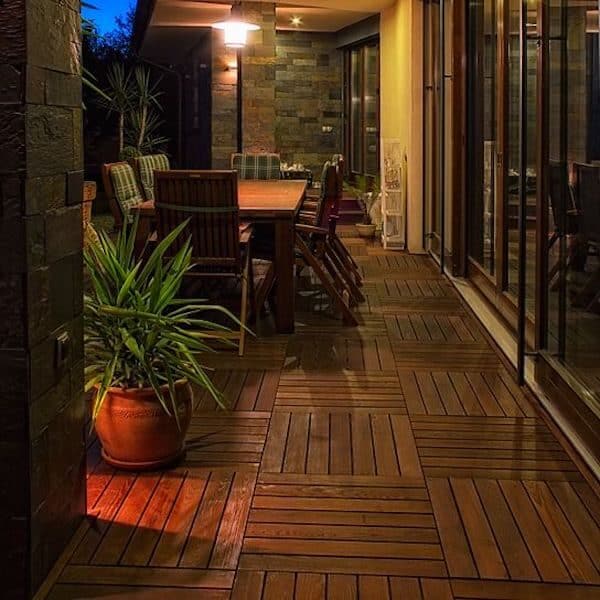 Thermory® Wood Pavers
Thermory decking tiles provide decks and terraces with the warmth and character of natural wood. Thermal modification gives the wood a beautiful rich color and aesthetic appeal. It makes the wood more durable, stable, and resistant to the environment. Thermory products are unrivaled in environmental responsibility. FSC® Products Are Available.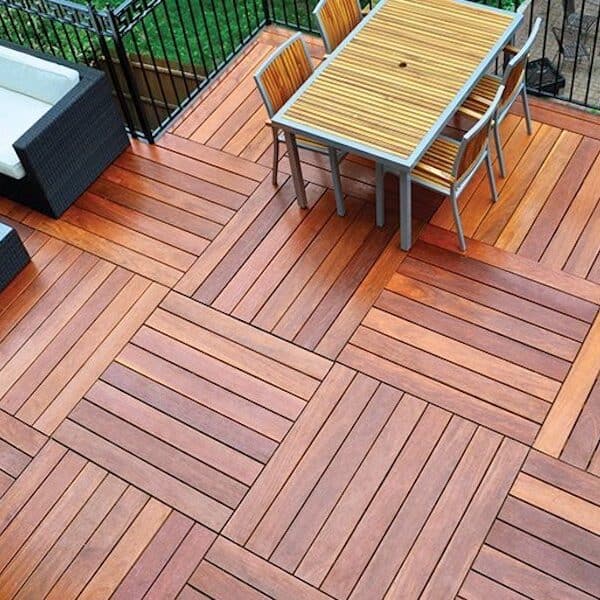 Mahogany, Cumaru, Massaranduba
While Ipe is the most popular type of tropical hardwood, there are other varieties of wood that have similar characteristics. Some varieties are arguably as beautiful as ipe, but even more durable, with a lesser price tag. These premium materials are resilient, rugged, attractive, and offer a long service life with little need for maintenance.
Help and Resources
Would you like to discuss Black Locust Deck Tiles, Thermory Pavers, or other sustainable alternatives to Ipe hardwood for your project? Call 503.360.9551 or Click.